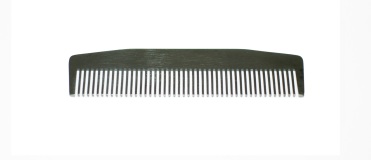 Shop
Model No. 3 - Black - Chicago Comb Co.
Model 3 has been widely acclaimed for its elegant reinterpretation of the most classic comb designs. With its sleek and graceful lines, it's the ultimate hair comb, built to last a lifetime. Made in USA of high quality stainless steel, laser-cut and hand finished for comfortable daily use.

5.5 inches (14 centimeters) long, with medium-fine size teeth (tines). Works well with all hair types. Like all Chicago Combs, each Model 3 is expertly hand-finished in our workshop in Garfield Park, Chicago. The Black has a special graphite black finish, similar to that used on luxury wristwatches, which is as hard as diamond and resists scuffs and scratches.