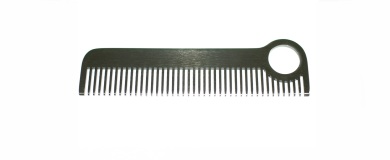 Shop
Model No. 1 - Black - Chicago Comb Co.
From the moment it was introduced, the Model 1 quickly became one of the most iconic combs in the world. The ultimate hair comb, built to last a lifetime. Made in USA of high quality stainless steel, laser-cut and hand finished (in over a dozen separate steps) for the smoothest comb experience ever.

5.5 inches (14 centimeters) long, with medium size teeth (tines). Works well with all hair types. The patented design adds extra functionality to hang up the comb after use. The Black has a special graphite black finish, similar to that used on luxury wristwatches, which is as hard as diamond and resists scuffs and scratches.